Discover more from Culture of Christ
Love God and Love Your Neighbor as Yourself
Journeys of faith - Chet and Joseph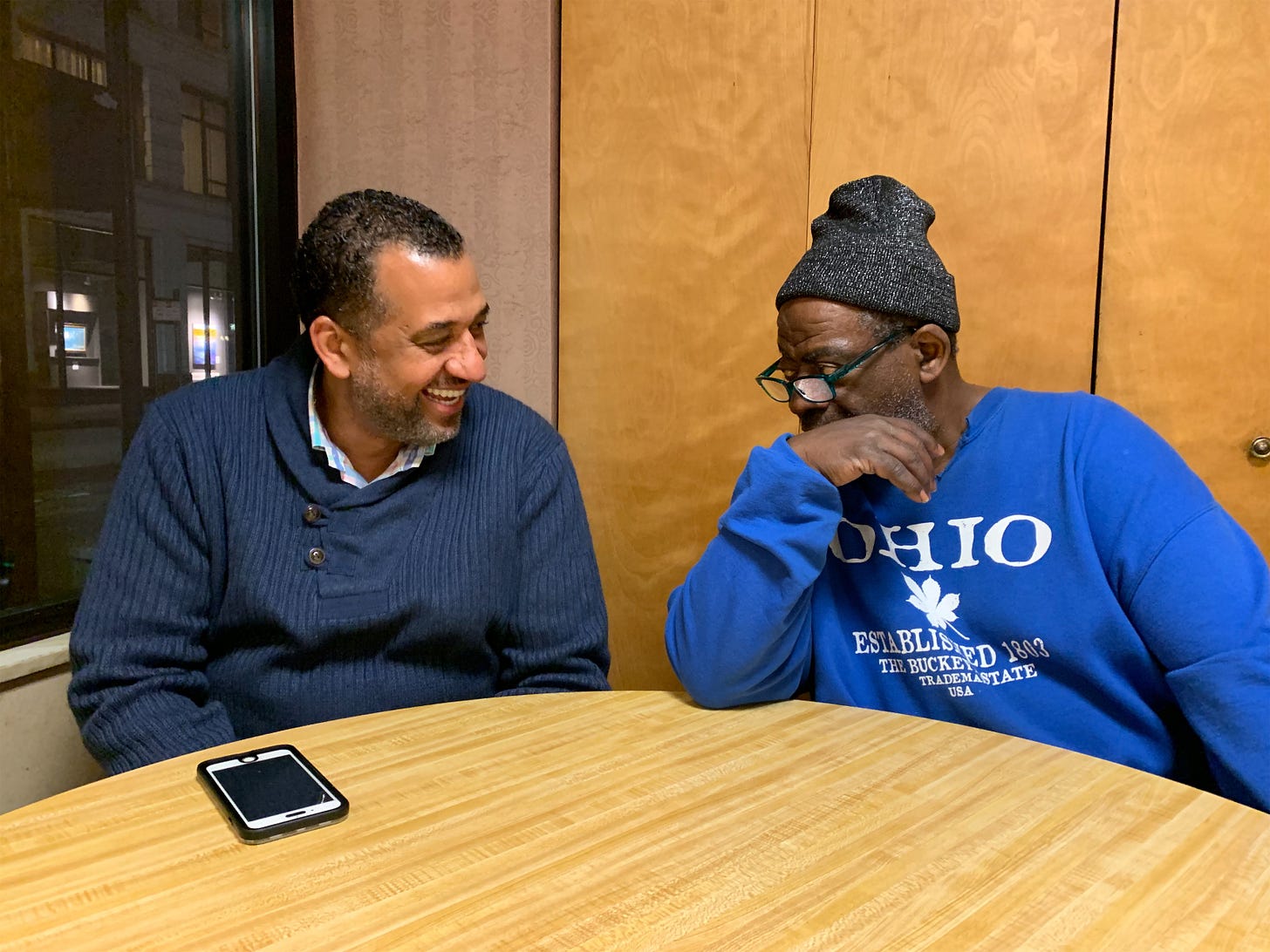 It's 5:20AM. I'm in my brother Chet's penthouse apartment. It's located in the same complex as GE Global Operations where he is Senior Vice President and Chief Technology Officer of Infrastructure Products. Looking out his living-room window, you can see Paul Brown Stadium, home of the Cincinnati Bengals. Right next door is the National Underground Railroad Freedom Center and Great American Ball Park, home of the Cincinnati Reds, is just a stone's throw away. There's even a huge ferris wheel down the street.
Even with all of that and much more outside his front door, much of that is wasted on him, because he doesn't even have to leave the building to get to his corner office. When he does leave the building, he's usually on his way to the airport to fly to one of the several plants and offices that he oversees all around the globe.
He is the envy of many in the corporate world. He's living a C-Suite life!
So why has he decided to give it all up?
A few years ago, Chet began to feel uneasy about his current career path. Even though he was successful by most measures, he still had this sense that something was missing. Having recently remarried and starting a second family, Chet quickly disabused himself of that nagging notion and focused even harder on his career, one that would eventually afford him the opportunity to provide generational wealth to his two adult daughters from his first marriage and for his wife Lindsay and their three small children.
But try as he might, that feeling just wouldn't go away, so he prayed and eventually God sent him two earthly angels, one a billionaire and the other a homeless man.
This is Chet Guess' journey of faith. My brother begins to share his story with me early on a Thursday morning in February, at his first meeting of the day – a 6 a.m. with God at Saint Francis Xavier Church in Cincinnati. It's there where we will meet Joseph.
Chapter 1 – Joseph
When we arrive, I walk toward the side door of the church while Chet pays for parking. I see a man there who seems to be homeless, acting as the defacto doorman. Anytime someone gets close to the door, he springs into action and swings the door open from them to enter. I wonder, is the man that my brother has been telling me about these past couple of months.
When Chet joins me by the side door, a man appears out of the shadows as if out of thin air. He is using a newfangled metal walker to help with the hitch he seems to have in his get along. He's wearing sweat pants and under his black overcoat is a black hooded jacket and under that is a cobalt blue state of Ohio sweatshirt. Hanging from the walker are various and sundry things in plastic bags that he undoubtedly needs throughout his day's journey.
Out of the morning air came a deep voice, "Hey Chet!" to which my brother replied, "Hey Joseph, how you doing this morning?" Chet introduces me to his earthy angel and after a brief exchange of pleasantries, Joseph goes on his way to the secondary door to the elevator that would take him upstairs to the sanctuary.
Chet and I walk toward the side door. I walk in first. After Chet is just inside the door, I heard the man say, "Hey brother, I need you to pray for my sister. She's in the hospital. I'm going to visit her later today." You could tell that the two of them had a rapport that went beyond the obligatory how-do-you-do, the one meant as a statement instead of a question. Clearly, Chet took the time to pause when offering that greeting to see if there was an opportunity for a genuine exchange. Chet smiles and says, "I sure will, but why don't you come up with us and we can all pray for her together."
When we got upstairs, we found Joseph in what Chet said was his usual seat on the right side, second pew from the front, aisle seat. Chet and I walk around to the other side of the pew so that we wouldn't have to walk across him. Chet sits next to Joseph and I sit next to Chet.
It had been a while since I attended a Catholic Mass. We were raised Catholic, but I left for the Baptist church as a young adult. I was waiting to see if I could remember some of the congregational replies. The priest came out and after a few moments, I had my chance. "The Lord be with you," he says. "And also with you," is my reply. Before I could finish my response I hear a thundering baritone voice reverberate throughout the sanctuary, "And with your spirit." The voice is so loud that it thankfully covered up my pre-2008 Catholicism response.
Throughout the short Mass, Joseph's presence is felt in the sanctuary. Not only does his voice carry but you couldn't help but feel his spirit in the midst of the morning Mass.
After Mass, we walk around the corner from the church to have breakfast. We talk about how God brought Chet and Joseph together. The first time Chet saw Joseph, he didn't get a chance to meet him or talk to him. When he finally got the chance, he wanted to help but didn't want to offend him.
"I couldn't tell what his situation was. Was he homeless? Did he need help?" he said. "I didn't want to assume or judge him, but I wanted to find a way to offer my help to him and eventually I was able to do so."
Chet's initial offer of help was graciously accepted. Interestingly, Joseph sensed something in his spirit. He knew that he didn't want to offend him with his offer. "I really honored [the way he approached me], because some people don't want to be helped," said Joseph. "I had an old walker and stuff. It was really tore down." Joseph asked Chet that if he saw it in his heart to help him he could use a new walker.
This was music to Chet's ears. He made it a family project and he, Lindsay and their kids searched the internet to find the best possible walker for Joseph. A week or so later, Chet was able to deliver the new state-of-the-art walker to his new friend.
Reflecting on that moment, Joseph thanked God for putting Chet in his life. "Everything that I'm doing right now, I'm doing it better because of him and I know God sent him to me, because I pray for stuff like that all the time," he said. "I had to go to my own study place where it is quiet and stuff and I asked God, is this an angel. That's how real it was."
From Chet's perspective, the angel thing is definitely a two-way street. As he got to know Joseph over the days and weeks, he often sought his wise counsel to try to get a much-needed perspective as he strained to detect and discern God's voice among all the noise of his seemingly perfect material life and lifestyle.
One day in particular stands out to him as proof positive that not only did he need to make a change, but that God was truly at the center of his relationship with Joseph. One morning at Mass, Chet heard the Mass was being dedicated to Joseph. Afterward Chet spent some time leaning on Joseph's wise counsel.
"I [was going through] a particularly bad week," said Chet. "And after church [Joseph] talked to me and I said look, it's been a rough week and [he] spent the time to lift me up." Later in the conversation after laying what he thought were his heavy burdens on Joseph, Chet asked him why Father Ross had dedicated Mass to him earlier. Joseph replied, "Oh, my son just passed away."
"Here I'm talking to [him] about how tough my week's been and [he's] holding me up and [his] son just died," he said. This exchange not only gave Chet clarity but it gave him perspective and was part of the life-altering decision he was about to make.
Joseph's take on the Culture of Christ:
Questions for discussion:
When we think about helping people who are less fortunate than ourselves, do you ever think they could be more of a blessing to us than we could be to them?
Have you ever really talked with a homeless person? Do we really see them as human beings? What are some of the things you can do to act more responsibly as believers in Jesus, as Matthew 25:35-40?
Can you share a story with someone about how you God used a person you didn't know to be a blessing to you?