Discover more from Culture of Christ
Love God and Love Your Neighbor as Yourself
My mother and the Hawaiian Honu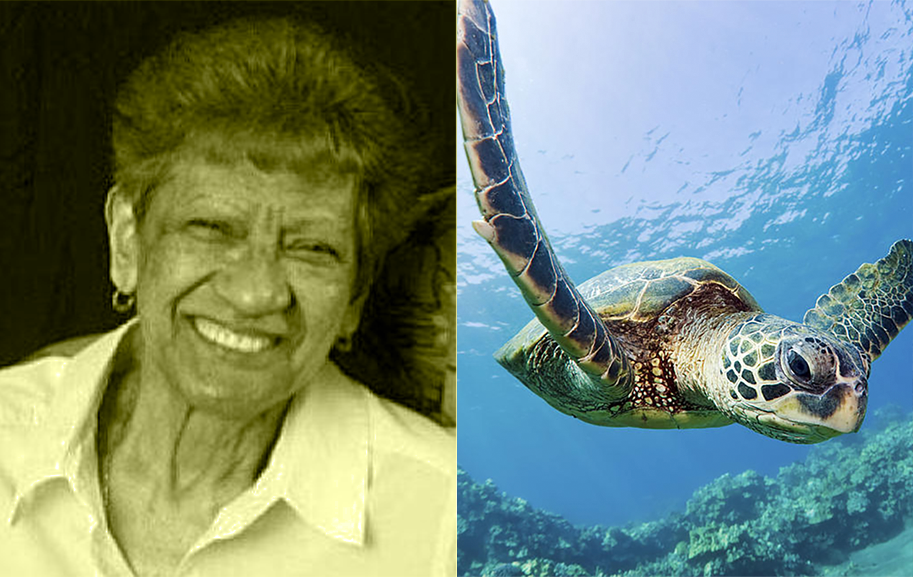 Today is the third anniversary of my mother's memorial service. I actually didn't know it was today. I decided to write about her after my morning walk. When I looked back through some pictures, I realized that today was the day. I don't necessarily look at the date of my mother's passing or her memorial service as something to commemorate.
My mother didn't leave me on the day she passed.
I don't miss her.
Because she's still with me.
And always has been.
There's not a day that goes by that I don't feel my mother and her love in my spirit. Today is a day that I felt a strong sense of her presence in my spirt. Since the start of spring, I have had a regular physical reminder of that spirit on my morning walks when I commune with God and nature.
I keep running into turtles. I keep seeing this one particular turtle over and over again. I saw her again today. She reminds me of my mother.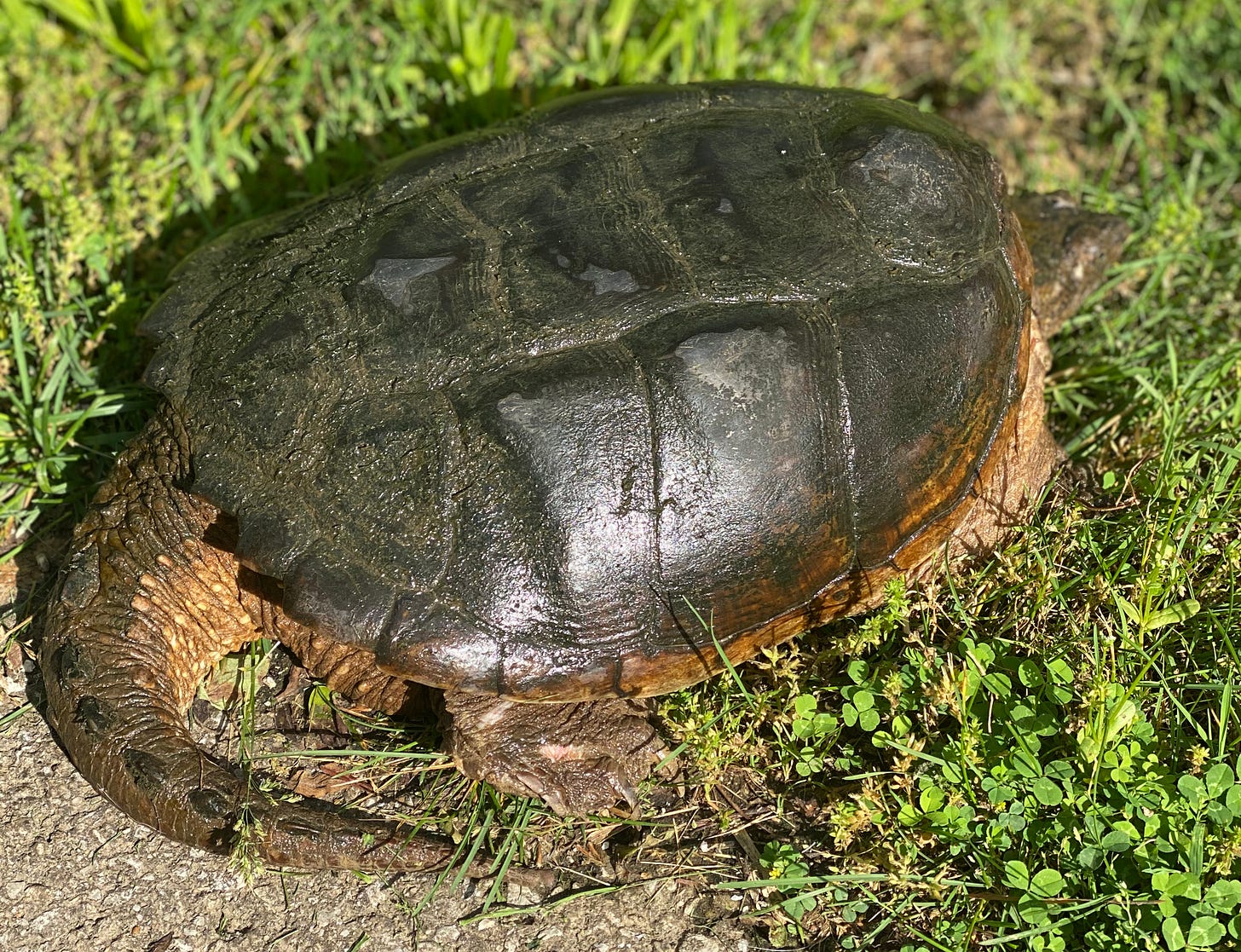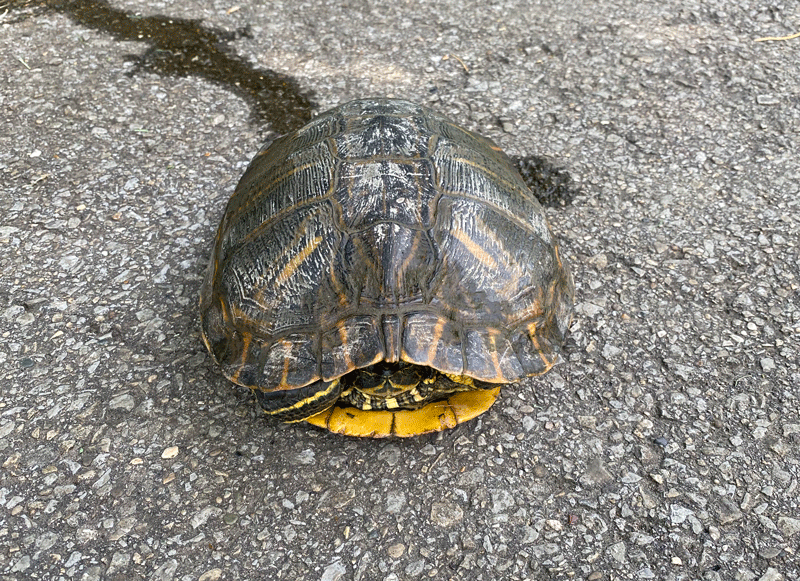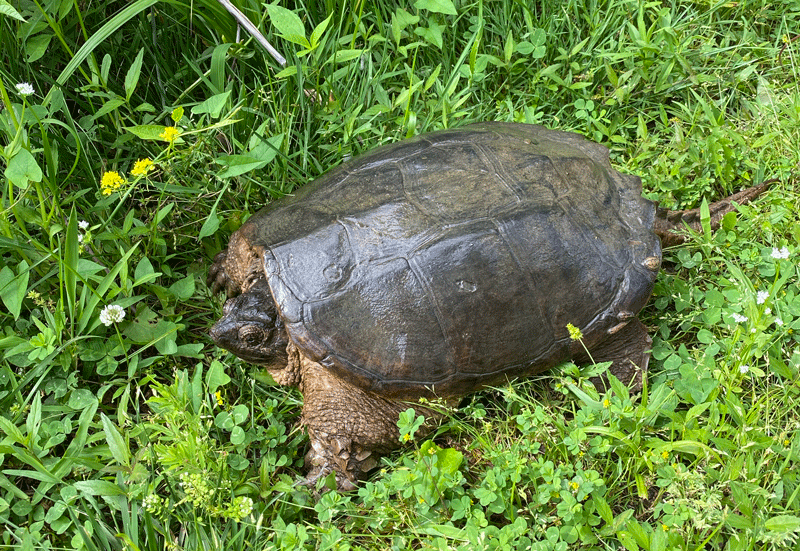 I see these turtles almost every day on my morning walk.
My mother loved turtles
My mother is native Hawaiian. She was born on the island of Molokai and raised in Honolulu less than 2 miles away from Waikiki beach. As a teenager, Joyce Stone met my father Harold Guess, an African American Navy sailor stationed in Honolulu. A year later they were married. They eventually settled in my father's hometown of Louisville, KY, where she would live for the rest of her life. I am the youngest of her five children.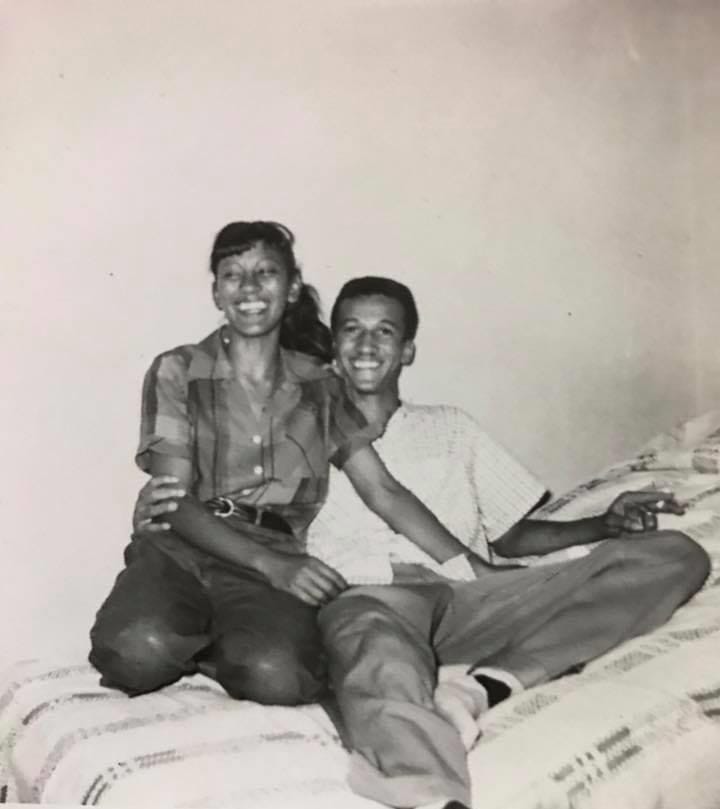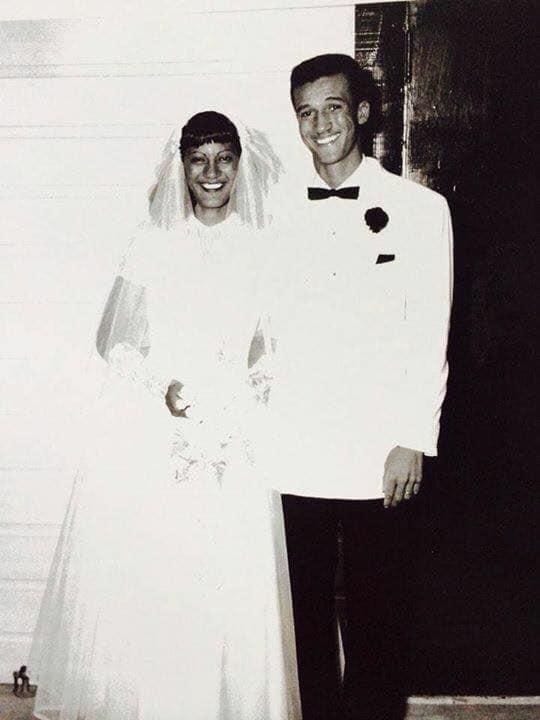 Joyce and Harold Guess
As a kid, I always remembered us having a turtle as a pet. My mother loved turtles. As a matter of fact, my older brother, Chet, has a birthmark on his arm that looks like a turtle. My mother called his birthmark Murtle the Turtle. And not so coincidentally, everyone of the turtles that we had as pets over the years, were also affectionately know as Murtle the Turtle.
I didn't really make the connection between my mother's love for turtles and her Hawaiian roots until my daughters Kennedy "Kehualani," who shares the same middle name as my mother, and Morgan "Leilani," who has another Hawaiian family name as her middle name, decided to get matching tattoos in honor of their grandmother. They decided to get the word Ohana, Hawaiian for family, and a symbol of a turtle. Morgan did some research for the tattoo and decided on the turtle because of its significance to Hawaiian culture.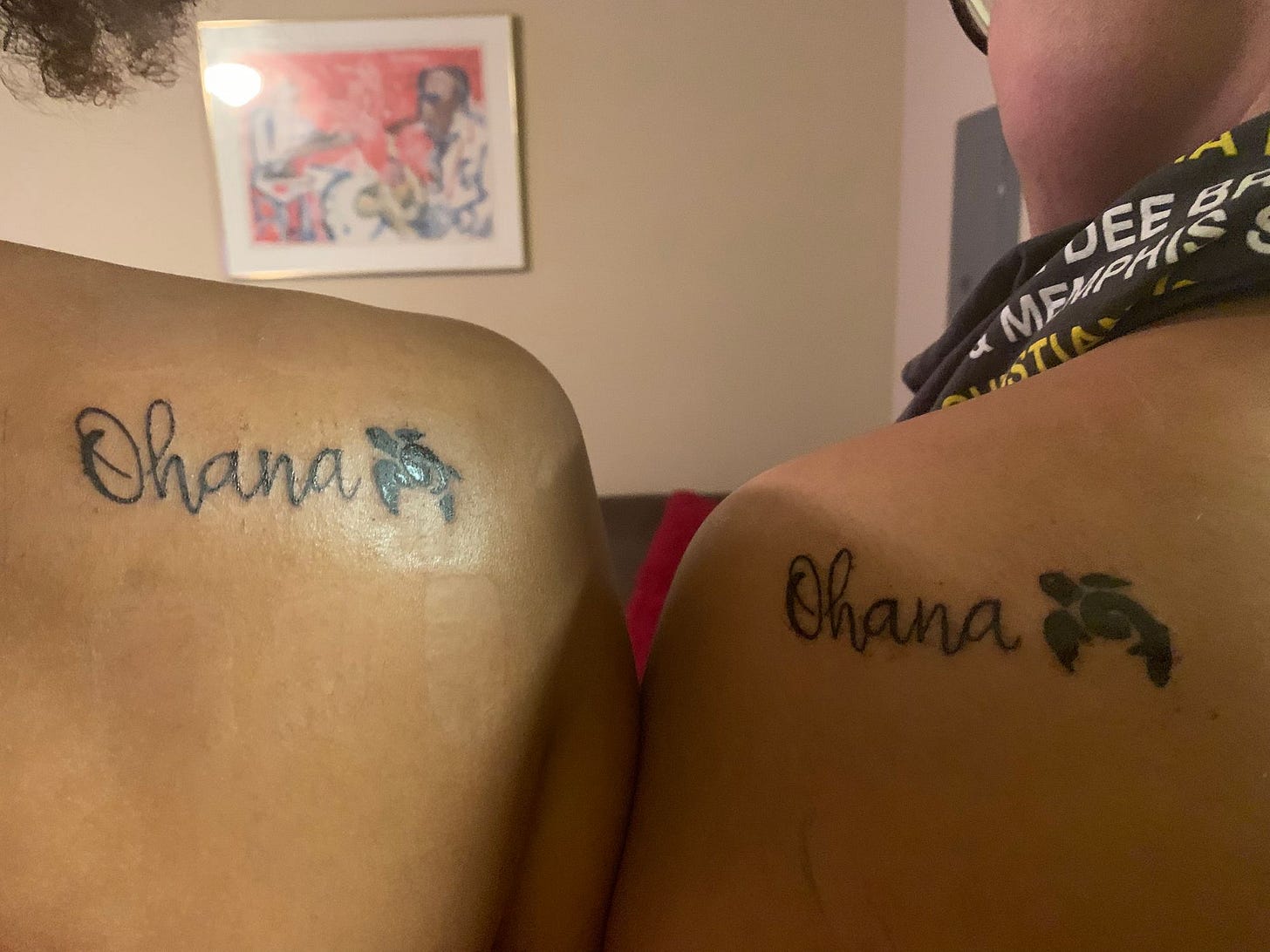 Kennedy Kehaulani (l) and Morgan Leilani (r) honor their grandmother with matching Ohana tatoos with a Honu turtle
I spoke on behalf of my siblings at my mother's memorial service. What I spoke about was her passion and her purpose. I have never encountered anyone in my life who lived out what God's purpose was for their life, more than my mother.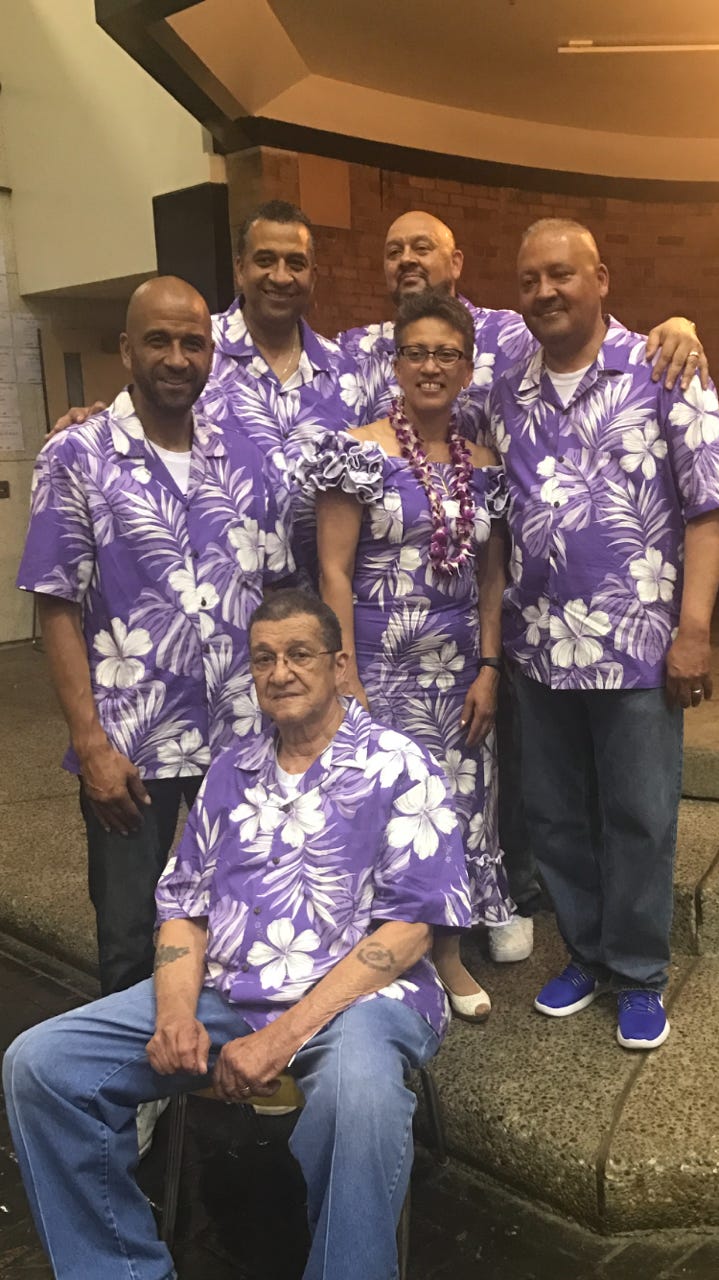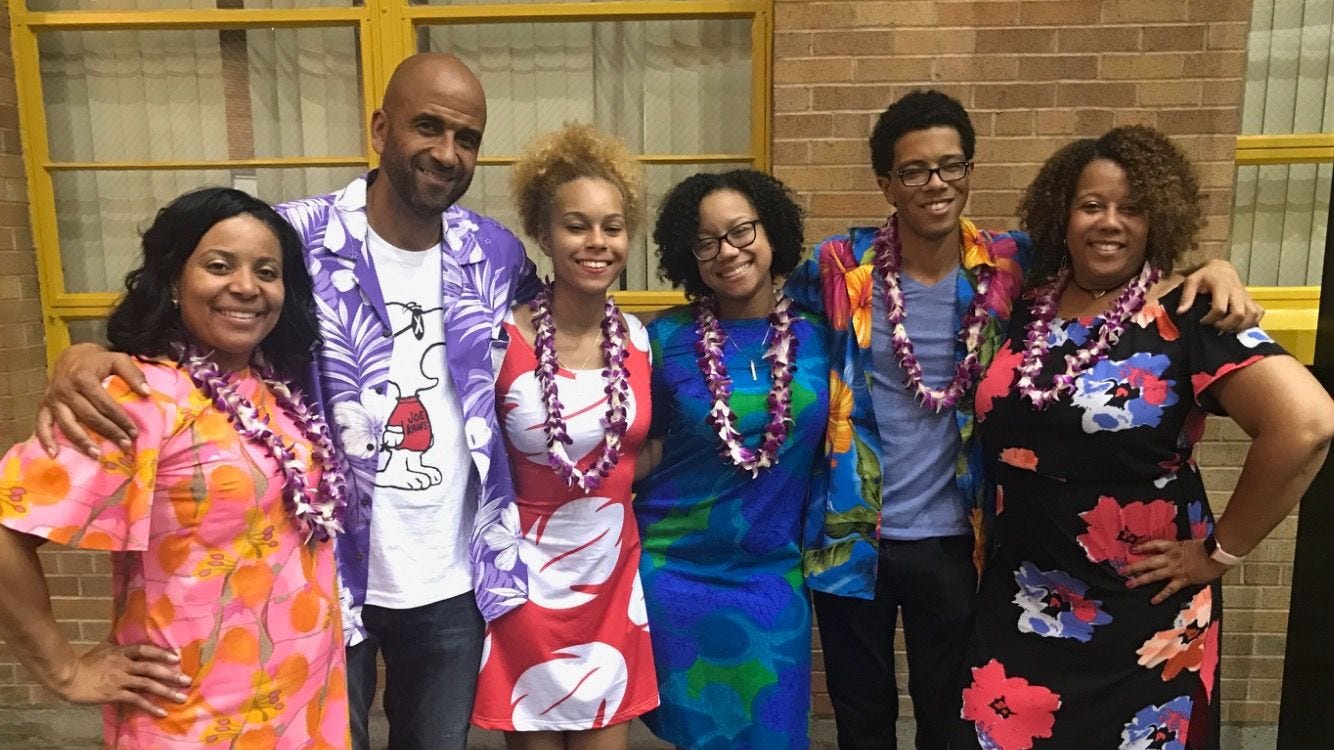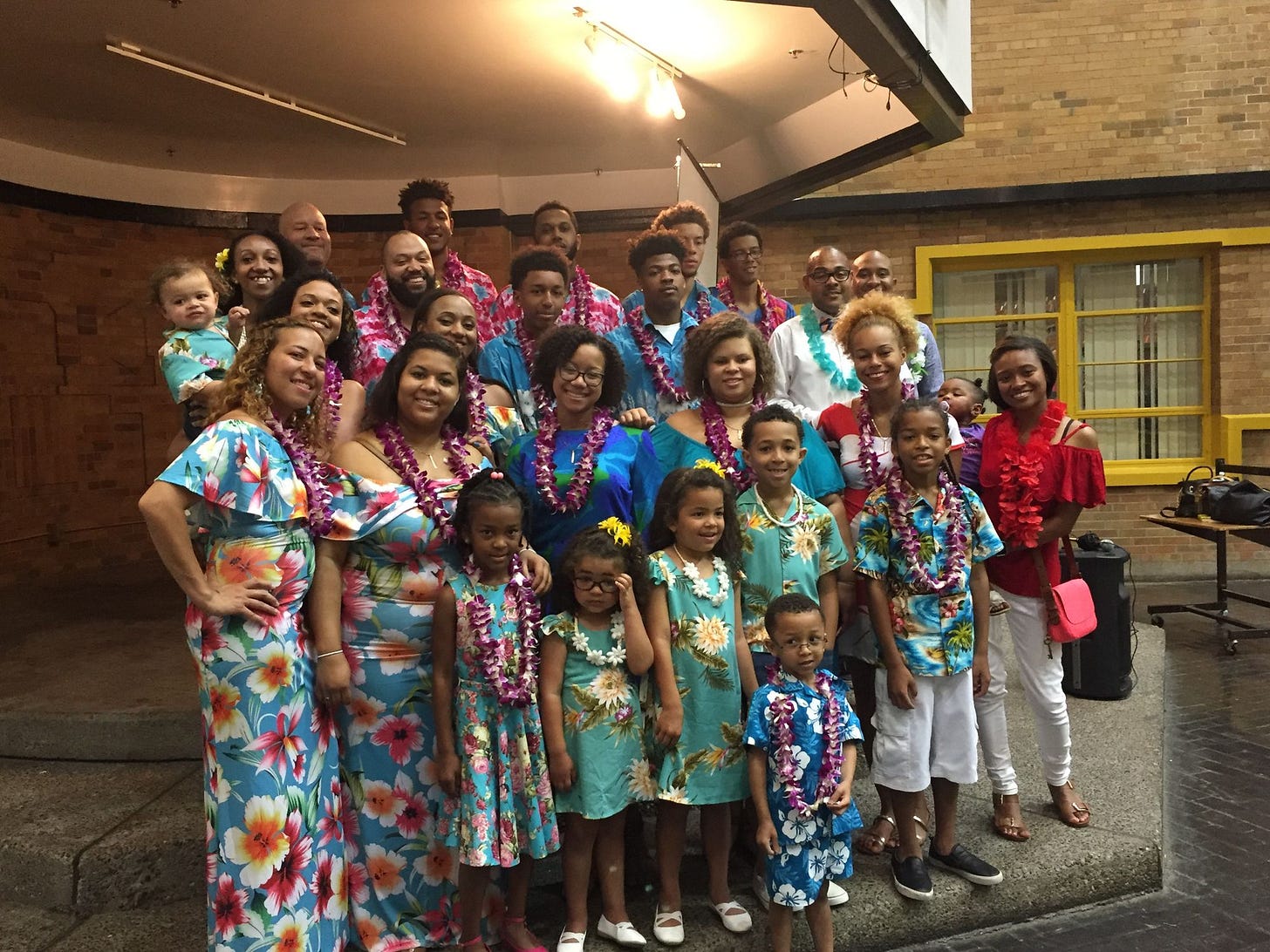 1st photo (Me, my siblings and father at the memorial service - l to r, me, Chet, Mary, Daniel, Harold, Jr. Harold, Sr. seated), 2nd Photo (me, my wife and children - l to r, Kenithia, me, Kennedy, Morgan, Wynton and my wife Cheryl), 3rd photo (all of my mother and father's grandchildren and great grandchildren)
There are two passages from Scriptures that completely embody her purpose:
"Jesus invited a little child to stand among them. Truly I tell you," He said, "unless you change and become like little children, you will never enter the kingdom of heaven. Therefore, whoever humbles himself like this little child is the greatest in the kingdom of heaven. And whoever welcomes a little child like this in My name welcomes Me. But if anyone causes one of these little ones who believe in Me to stumble, it would be better for him to have a large millstone hung around his neck and to be drowned in the depths of the sea." (Matthew 18:2-6)
"...Truly I tell you, whatever you did for one of the least of these brothers and sisters of mine, you did for me.' (Matthew 25:40)
My mother welcomed the least of these, the little ones into our home and treated them no differently than her own children. She cared for children, most from less-than-ideal circumstances, for the vast majority of her time on earth. It took me a long time to understand how or why she could or would do this. How she was able to give of herself and love these – who I deemed at the time to be unlovable children, the same way she loved us – was unfathomable to me as a child. Her own children were supposed to be special. Why was she loving these children the same way she loved us?
But one day I realized what God was doing through the earthly vessel of my mother.
What a special meaning
One day in a revelatory reverie, I heard my mother explain to me why she did what she did.
"God promised me that He would bless my children if I promised to take care of His children."
I didn't hear those words come from my mother's mouth. It is just my frail and feeble attempt to articulate into words, the understanding that I received from God one day about my mother. We were blessed to have her as our birth mother, but little did we know that her maternal responsibility and purpose went way beyond the miracle of birth.
As I mentioned above, turtles have a special, even mythical place in Hawaiian culture.
Today, after seeing that turtle again, I decided to do a little further exploration of Hawaiian turtles.
What I found out blew me away.
"The Hawaiian Green Sea Turtle is the only indigenous reptile found in Hawaii, but for Hawaiians, the Honu is a symbol of good luck in the form of a guardian spirit, or Amakua."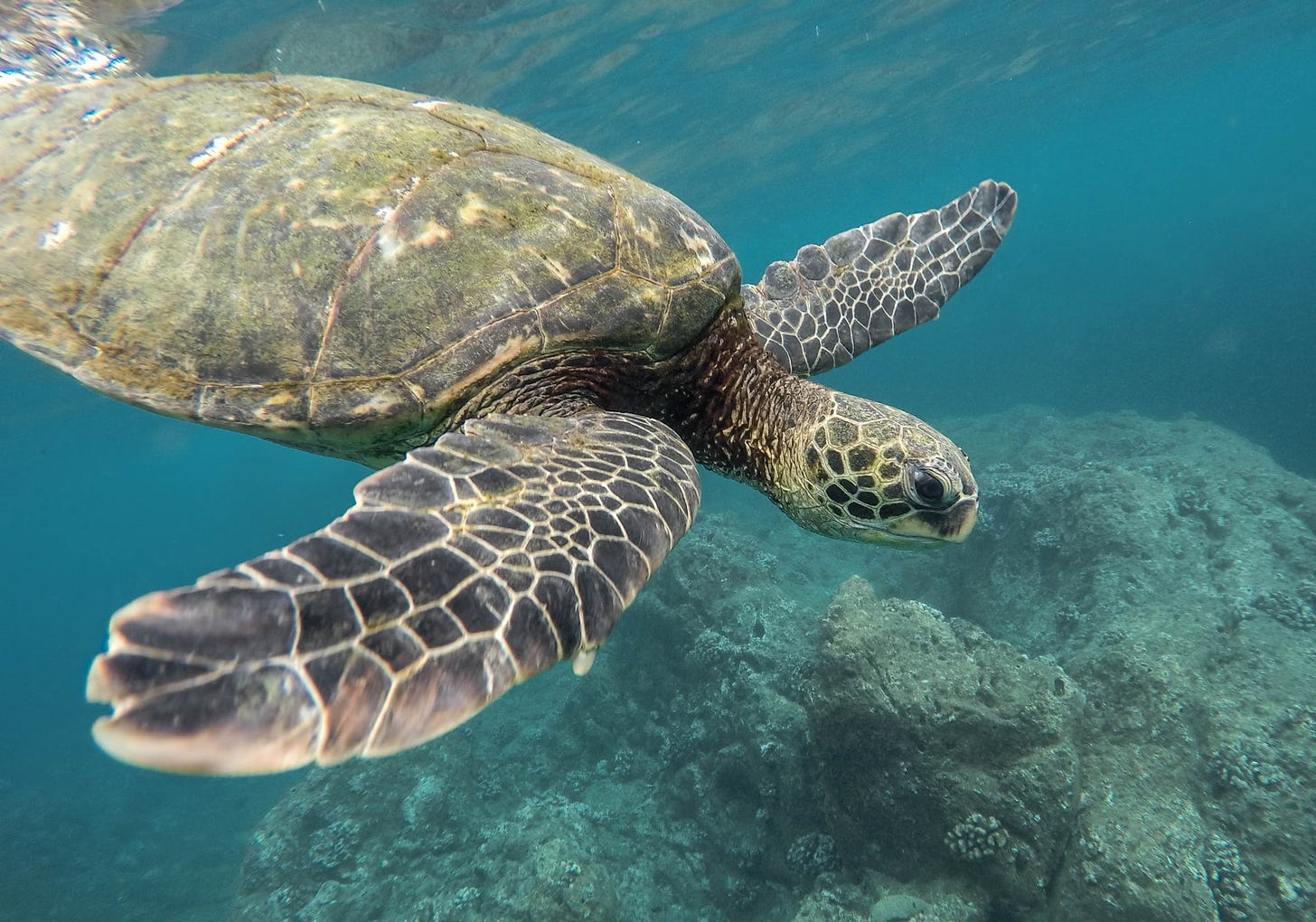 Photo by Jeremy Bishop / Unsplash
"One Hawaiian legend tells of a large Honu, Kauila, who would transform into a human girl and served as protector of the Keiki (children) playing along the shore."
It's no wonder my mother loved turtles so much.
Please consider becoming a member so we can continue to bring you more content like this.