Discover more from Culture of Christ
Love God and Love Your Neighbor as Yourself
Lessons from Charleston: the power of forgiveness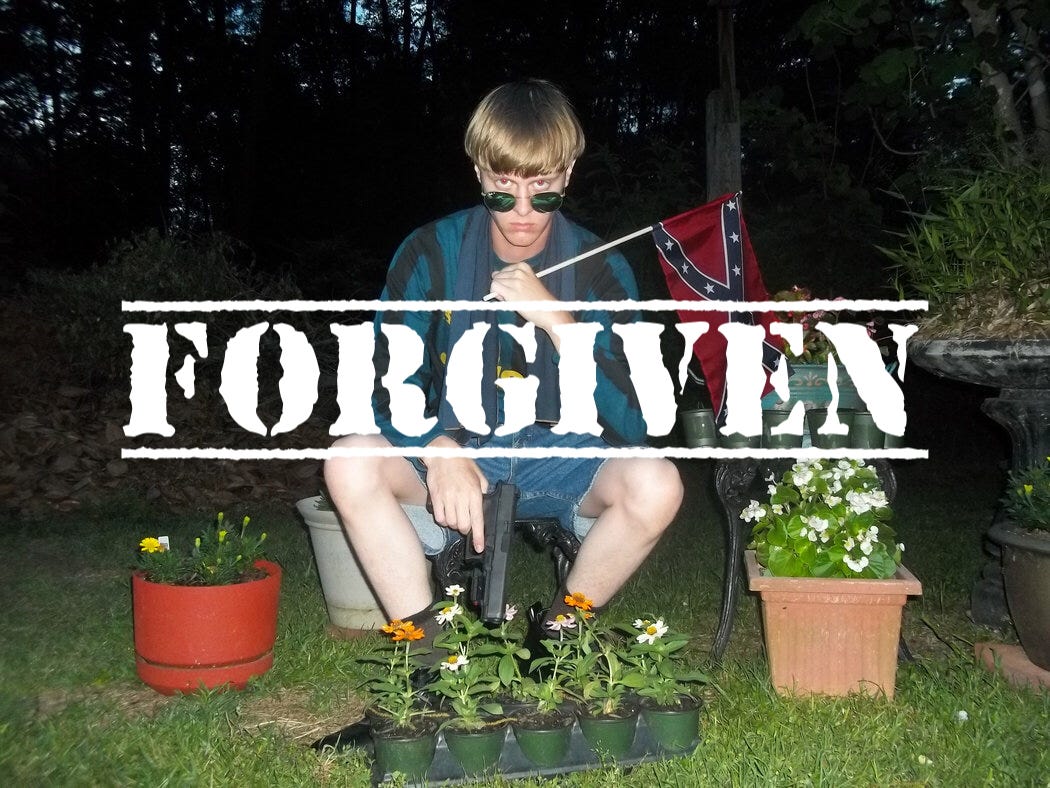 On the morning of June 18, I got a call from the editor of one of the sites that I write for telling me that he needed me to get him a piece on Charleston ASAP. I didn't know what he was talking about. I hadn't watched any television the day before nor that morning and I was yet to login to my computer.
He told me about the racially motivated mass murder of nine black parishioners at Emmanuel AME Church in Charleston, SC. I was numb. This was much more complex and nuanced than the recent incidents in Baltimore, Ferguson and on the campus of the University of Oklahoma. I couldn't write about it. I wouldn't write about it. My mind couldn't really process it. I didn't know how I truly felt about it and I didn't want to simply react and write something just for the sake of having a by line online. I haven't written any op-ed or commentary pieces since then, mainly because I needed to take some time to center myself and my thoughts.
Two months later after some time to really reflect, I was still not sure exactly how I feel about it or how I feel about the rapid change in the racial climate of the country brought about by sweltering events like this. However, there was something powerful that happened in Charleston that needs to occupy more of the headlines as well as the minds of those outraged and affected by racial animus – forgiveness.
I remember telling my wife about the incident after I ended the call with the editor. The first thing I said to her after delivering the details was –
"THE MEMBERS OF EMMANUEL ARE GOING TO PUBLICLY FORGIVE WHOEVER DID THIS AND PEOPLE ARE NOT GOING TO KNOW HOW TO DEAL WITH IT."
Forgiveness is a very powerful thing! It is part of a tried and true two-pronged approach on the train of the Christian journey. The Golden Rule is the engine car on that train and bringing up the rear is the caboose – forgiveness.
Dylann Roof, the self-proclaimed racist who intended to start a race war by killing innocent parishioners in a black church, ran into something I'm sure he couldn't conceive and certainly didn't expect when he crossed enemy lines. While he sat in his mental fox hole in the pews at Emmanuel for over an hour, his soon to be victims unleashed a preemptive strike on the unknown enemy in their midst, a barrage from their own arsenal – love.
Their employment of the Golden Rule and the love and respect that they showed to this stranger and soldier of hate had a powerful effect and caused a chink in his armor. He told the authorities after being captured, "I almost didn't go through with it because everyone was so nice to me." Unfortunately, the love emanating from the engine of that Christian train wasn't enough to change his mind. He went ahead with his plans anyway, but the unmerited forgiveness showered upon him like confetti from the passengers in the caboose – those left in the wake of his actions – may be enough to eventually change his mind as well as the minds of others.
ROOF WENT INTO THAT CHURCH TO SPARK A RACE WAR BUT WHAT HE WAS MET WITH WHILE IN THERE AND EVEN AFTERWARDS BY THOSE PERSONALLY AFFECTED BY HIS DECLARATION OF WAR WAS A LOVE FEST!
In the days and weeks after the massacre I thought that the forgiveness narrative somehow got lost in the sauce of the 24-hour news cycle and was replaced by the debate over the Confederate flag. But now I realize that it was the goodwill that flowed from that forgiveness that was at the heart of the battle and victory in getting the flag removed from public spaces.
The essential question for us in this country as it relates to race is what does success look like. What is the end game? Is it bringing Martin Luther King's Dream into full fruition? Is it peaceful co-existence? Is it a cold war with mutual assured destruction? Or, is it business as usual – chaos and confusion?
There's one thing that I am thoroughly convinced of. If the goal is to make King's Dream a full reality and bring about racial reconciliation and harmony, then forgiveness is the only way to ensure that reconciliation can indeed take place and last.
Forgiveness isn't about forgetting. It isn't about being weak. It's about centering the focus of your energies in the present.
LIFE IS A PERPETUALLY MOVING SERIES OF NOW'S. YESTERDAY IS GONE, NEVER TO COME AGAIN AND TOMORROW IS NOT PROMISED AND MAY NEVER COME. FORGIVENESS IS ABOUT RELEASING THE POWER THAT YESTERDAY HAS ON YOUR NOW.
It's really not about the other person or entity. It's about the power that they or their actions have over your "now". Forgiveness allows you to reclaim that power so that you can use it to live life to the fullest in your series of now's.
Don't just take my word for it. Try it for yourself.